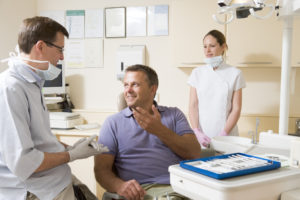 Keeping your smile whole and healthy is essential to preserving a beautiful, properly functioning smile, but it may also improve your whole body health. By working hard to keep your smile whole and healthy, you may lead a longer, healthier life. In this post, we'll walk you through the basics of caring for your smile at-home and in our office, and we'll discuss some whole body health concerns that affect your smile.

At-Home Care
We get to see you in our office twice a year, but the other 363 days of the year, your oral health care is up to you. We recommend patients at least maintain the following at-home hygiene:
Brush teeth two minutes at a time at least twice a day
Use a soft bristled toothbrush and minimally abrasive toothpaste
Brush systematically not sporadically to ensure every tooth gets the attention it needs
Floss at least once a day carefully removing plaque and tartar buildup between teeth
Biannual Dental Appointments
Dental checkups are an essential part of every preventive dentistry plan. As is recommended by the American Dental Association, we encourage every patient to visit us two times each year. During these biannual dental appointments, we screen for early warning signs of common oral health concerns and partner with patients to keep their smiles completely healthy.
Balanced Diet
You know the old saying, "You are what you eat?" When it comes to healthy smiles, that may be more accurate than you think. Eating a healthy, balanced diet is one of the many essentials to ensure you maintain complete oral health. That includes avoiding staining foods and drinks that discolor teeth, limiting acidic and sugary foods and beverages, and drinking plenty of water.
Surprising Factors that Affect Oral Health
In addition to consuming the right diet, there are also some other whole health concerns that can affect your oral health. Some of the most common whole body health concerns that may increase the challenge of maintaining optimal oral health include:
Immune compromising diseases (HIV/AIDS, multiple myeloma, viral hepatitis, and similar)
Diabetes
Medications that reduce saliva production
Chemotherapy
Meet the Combs & White Family Dentistry Team
At Combs & White Family Dentistry, we are happy to offer a wide range of preventive dentistry services in our two convenient office locations at Bella Vista and Pea Ridge. We look forward to partnering with you to achieve and maintain the optimal level of oral health for a lifetime. If you're interested in finding out more about preventive dentistry or the mouth-body connection, call our team to schedule an appointment with us in one of our two convenient dental office locations.