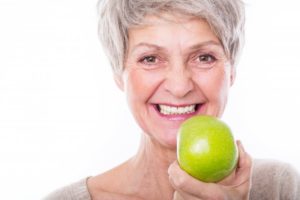 After missing teeth for so long, you can't imagine not having a complete smile again. Thankfully, your dentures in Bella Vista have replaced your missing teeth and provided a boost in the quality of your life—but it wasn't easy nor cheap to do so. Dentures are an investment that you should take pride in caring for! Plus, proper care of your dental prosthetics will help them last a lifetime. Learn all about denture maintenance and how to keep your dental prosthetics in great condition in this week's blog post.
Dentures Can Last a Lifetime with The Proper Care!
When you invest your time and money into getting dentures from your dentist in Bella Vista, you know that you want them to last as long as possible.
One good thing about dentures are that they are made to last through the typical wear and tear that your natural teeth would normally handle, so they can last a lifetime just as natural teeth. All you must do is maintain their basic hygienic care.
Here are a few maintenance tips to help you keep your dentures for years to come:
Use a soft-bristled toothbrush to brush your dentures clean from the dental debris that may linger on them.
Avoid using regular toothpaste as the typical ingredients can be abrasive to the prosthetic.
Brush and floss your remaining teeth if you still have any.
Even if you have lost all your teeth, massaging your gums with a soft-bristled toothbrush can keep them strong.
Visit your dentist at least twice a year for regular dental cleanings and exams.
With this regular dental hygiene routine and professional care from your dentist, you should be able to keep your dentures for years and years!
Visiting Your Dentist Is Key to Maintaining Stable Dentures
As mentioned above, one of the main components of keeping your smile strong is meeting with your dentist. Regular preventive care appointments—even when you don't have remaining teeth—allow your dentist to evaluate your current state of oral health, allow them to review the strength of your denture prosthetics, and offer ways for you to improve both your well-being and your denture maintenance.
You should be visiting your dentist at least every 6 months. In the case that you have damage occur to a prosthetic or to your gums, it's best to give your dentist a call to schedule a visit even sooner than that.
---
About Our Office
Here at Combs & White Family Dentistry, you can depend on your local dental office to provide comprehensive care for the whole family—even if you or your family members have experienced tooth loss in the past. After all, we work to help people repair their smiles and maintain better oral health than they ever had before. Learn more about dentures and other restorative options by giving our office a quick call.