We Accept Dental Insurance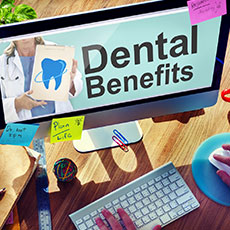 We always strive to make your treatment experience at Combs & Associates Family Dentistry as seamless and stress-free as possible. At the same time, however, we recognize that sometimes the cost of dentistry in itself can be a source of stress. That's why we accept many forms of dental insurance. Our team is happy, not just to hep you understand your coverage, but also to file claims on your behalf. We can also give you a general idea of how insurance will mitigate the cost of certain dental services.
You're always welcome to call one of our offices if you have questions about our dental insurance policies or your treatment plan. We're eager to do whatever is within our power to help you achieve a happy, healthy smile!
Dental Insurance Basics
We're pleased to talk to you in-person about your insurance benefits, but in the meantime, here is a breakdown of some basic insurance terms:
Premium – The monthly fee you and/or your employer pays to the dental insurance company. This helps to offset the cost of your dental treatments. As long as you stay current with your premium, your insurance will remain active.
Maximum – The highest amount of money that your plan will pay out in a year.
Covered cost – The percentage of your treatment cost that your insurance provider will pay.
Out of pocket cost – The portion of your treatment cost that you are responsible for paying for.
Deductible – The amount you must pay for services before your insurance coverage kicks in. Not all dental plans have a deductible.
Understanding Your Dental Benefit Plan
No two dental plans are exactly the same, but in general, each one covers a specific percentage of certain services. Here is a ballpark idea of how much you can expect your insurance to help with various dental procedures:
Preventive dentistry (cleanings, checkups, etc.) – 80 to 100 percent
Restorative dentistry (fillings, crowns, etc.) – 50 to 80 percent
Orthodontics (braces, Invisalign, etc.) – 50 to 80 percent
Cosmetic dentistry – Typically not covered
Dental implants – Not generally covered, although more and more dental insurance companies are including implants in their plans.
Maximizing Dental Insurance
The best way to get the most out of your dental insurance is to visit us twice a year for routine care. This saves you money because insurance pays for a greater percentage of preventive care than for other services. If you do need some extensive work, we'll put our experience to work and communicate with your insurance provider to make your costs as minimal as possible.
Choosing a dentist who is in-network with your insurance provider is another way for you to save money. "In-network" means that a dentist has a formal agreement with your insurance company that benefits both businesses. Insurance companies pay for a greater percentage of treatment costs when their customers receive treatment from an in-network dentist. At Combs and Associates, we're in-network with several major insurance providers. Indeed, we are proud to be your Delta Dental Premier dentist, your Cigna Dentist, and your BlueCross BlueShield Dentist.
Even if we are not in-network with your plan, we can still accept your insurance and file claims for you.