Bella Vista Partial & Full Dentures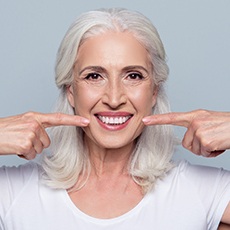 A full, healthy smile is not optional. It's an essential element to performing the smallest daily tasks like speaking clearly and chewing foods, and when you're proud of your smile, you're more likely to share it with confidence. Whether you've lost a single tooth or a full row of teeth, it's time to call Combs & Associates Family Dentistry to schedule a tooth replacement consultation. If you've experienced advanced tooth loss, don't wait even a day longer. Our Pea Ridge and Bella Vista dentist and team offer custom crafted, high performance partial and full dentures to replace missing teeth and allow you to smile with confidence once more.
Why Tooth Replacement is so Important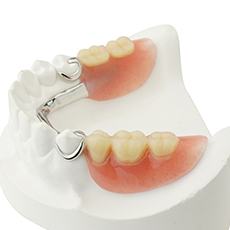 Even a single missing tooth can dramatically change the function of your smile. When a tooth is missing, surrounding teeth shift to fill in the gap, causing misalignment. The pressure absorbed by the missing tooth has to be dispersed to surrounding teeth placing excess pressure that puts these teeth at greater risk for damage like cracks and chips. Over time, the supportive bone and gum tissue diminish, which can lead to further tooth loss. Speaking clearly and chewing foods thoroughly can become difficult, limiting your confidence in certain social and professional settings. This is all with the loss of just one tooth. Now, imagine if you've lost numerous teeth or a full row? Restoring your smile can dramatically improve your lifestyle, so don't put off your tooth replacement consultation.
Partial Dentures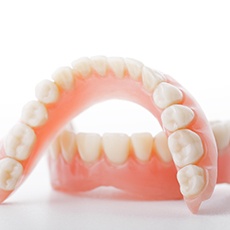 Partial dentures are tooth replacement prosthetics crafted to fill in the gaps left by numerous missing teeth. They are made up of a gum-colored base material and replacement teeth. The replacement teeth are attached to the base, and the entire prosthetic is held in place with clasps that connect to your remaining healthy teeth for support.
Complete Dentures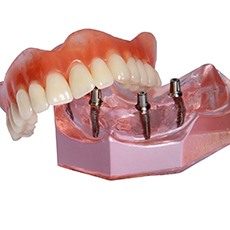 Complete or full dentures are crafted using a gum colored base to support an entire row of replacement teeth. Because there are no remaining healthy teeth to anchor the prosthetic, the denture base needs to be precisely shaped to create suction between the denture base and the gums. When the denture is properly fitted, you should experience a comfortable, functional fit, but many patients prefer to add a small amount of denture adhesive to improve the stability of their denture.
Implant & Hybrid Dentures
If you want to increase the stability of your denture, you may want to consider a traditional implant denture or hybrid prosthetic. Traditional implant dentures are fixed in place anchored to implant posts, and they will need to be removed by your dentist. Hybrid dentures offer the increased stability of an implant supported denture, but you can remove them at home for cleaning.
Caring for Your Dentures
If you have an implant fixed denture, you can simply brush your teeth as usual at least two times each day. We recommend that you rinse your mouth between meals even if you don't have time to brush to avoid allowing food to remain stuck in the prosthetic. You may also want to invest in a water flosser to help remove plaque buildup between the denture base and gum line. If you have a traditional partial or full denture or a hybrid implant denture, you can remove the prosthetic for cleaning. You need to brush the dentures at night before going to sleep, and we recommend rinsing them off between meals. You should store your denture overnight in cool water or denture cleaner. You should always use cold water when cleaning your dentures as warm water may warp some components of your prosthetic. If you have healthy teeth remaining, you should continue to brush and floss as usual. Finally, it's important to visit our team every six months for checkups. We'll be able to constantly reassess the fit and function of your prosthetic and help you maximize the life of your denture.
Dentures FAQs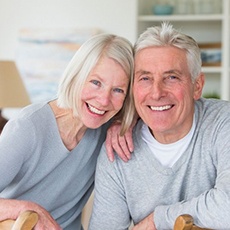 While missing teeth can obviously be a great hindrance when it comes to your smile, expressing interest in getting dentures is a great first step in the process of restoring your oral health. Dentures have come a long way in recent years, which means today's dentures are much more comfortable and lifelike than the prosthetics your grandparents used to wear. Our dentists want to make sure you have all the information you need to feel comfortable with your new and improve smile. That's why we have answered the questions we get asked the most often about dentures.
Is It Difficult to Get Used to Wearing Dentures?
When you first start wearing your dentures, your mouth may take a few weeks to grow fully accustomed to the new appliance inside of it. To help speed this process along, you can practice reading out loud or speaking in front of a mirror. This should help your cheeks, tongue, and gums get used to working around the new object in your mouth. In the beginning, it may also help to stick to a soft food diet and/or cut your food into bite-sized chunks and gradually work your way up to larger pieces and heartier foods.
Will My Dentures Slip?
You may have heard horror stories from your grandparents or other older folks about their dentures slipping around or even falling out while eating or talking, which is downright embarrassing. Luckily, modern dental technology has come a long way in designing dentures that are both comfortable and realistic. These days, as long as your dentures are properly fitted, you shouldn't have to worry about them slipping.
How Often Will My Dentures Need to Be Replaced?
Most dentures typically last anywhere from 5 to 8 years before they have to be replaced. This is because when you're missing your natural teeth, your jawbone gradually begins to shrink. As a result, your dentures will need to be refitted every year or so to adjust to your changing jawbone, and completely replaced every 5 to 8 years.
How Often Should I See My Dentist While Wearing Dentures?
Whether you've received full, partial, or implant-retained dentures, it's important that you still see our dentists for a checkup twice a year, or every six months. These appointments aren't just for cleanings. They also allow us to examine your oral cavity for signs of cancer. Detecting oral cancer early enough could potentially be lifesaving. Because the likelihood of developing oral cancer increases with age, it's imperative that you attend these visits regularly.