Bella Vista Partial & Full Dentures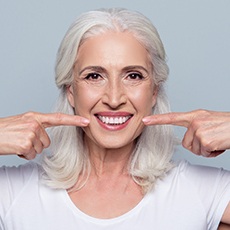 A full, healthy smile is not optional. It's an essential element to performing the smallest daily tasks like speaking clearly and chewing foods, and when you're proud of your smile, you're more likely to share it with confidence. Whether you've lost a single tooth or a full row of teeth, it's time to call Combs & Associates Family Dentistry to schedule a tooth replacement consultation. If you've experienced advanced tooth loss, don't wait even a day longer. Our Bella Vista dentist and team offer custom crafted, high performance partial and full dentures to replace missing teeth and allow you to smile with confidence once more.
Why Tooth Replacement is so Important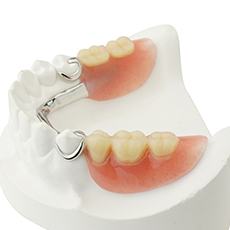 Even a single missing tooth can dramatically change the function of your smile. When a tooth is missing, surrounding teeth shift to fill in the gap, causing misalignment. The pressure absorbed by the missing tooth has to be dispersed to surrounding teeth placing excess pressure that puts these teeth at greater risk for damage like cracks and chips. Over time, the supportive bone and gum tissue diminish, which can lead to further tooth loss. Speaking clearly and chewing foods thoroughly can become difficult, limiting your confidence in certain social and professional settings. This is all with the loss of just one tooth. Now, imagine if you've lost numerous teeth or a full row? Restoring your smile can dramatically improve your lifestyle, so don't put off your tooth replacement consultation.
Partial Dentures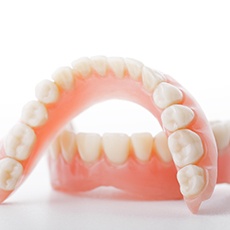 Partial dentures are tooth replacement prosthetics crafted to fill in the gaps left by numerous missing teeth. They are made up of a gum-colored base material and replacement teeth. The replacement teeth are attached to the base, and the entire prosthetic is held in place with clasps that connect to your remaining healthy teeth for support.
Complete Dentures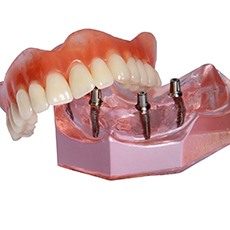 Complete or full dentures are crafted using a gum colored base to support an entire row of replacement teeth. Because there are no remaining healthy teeth to anchor the prosthetic, the denture base needs to be precisely shaped to create suction between the denture base and the gums. When the denture is properly fitted, you should experience a comfortable, functional fit, but many patients prefer to add a small amount of denture adhesive to improve the stability of their denture.
Implant & Hybrid Dentures
If you want to increase the stability of your denture, you may want to consider a traditional implant denture or hybrid prosthetic. Traditional implant dentures are fixed in place anchored to implant posts, and they will need to be removed by your dentist. Hybrid dentures offer the increased stability of an implant supported denture, but you can remove them at home for cleaning.
Caring for Your Dentures
If you have an implant fixed denture, you can simply brush your teeth as usual at least two times each day. We recommend that you rinse your mouth between meals even if you don't have time to brush to avoid allowing food to remain stuck in the prosthetic. You may also want to invest in a water flosser to help remove plaque buildup between the denture base and gum line. If you have a traditional partial or full denture or a hybrid implant denture, you can remove the prosthetic for cleaning. You need to brush the dentures at night before going to sleep, and we recommend rinsing them off between meals. You should store your denture overnight in cool water or denture cleaner. You should always use cold water when cleaning your dentures as warm water may warp some components of your prosthetic. If you have healthy teeth remaining, you should continue to brush and floss as usual. Finally, it's important to visit our team every six months for checkups. We'll be able to constantly reassess the fit and function of your prosthetic and help you maximize the life of your denture.
Denture FAQs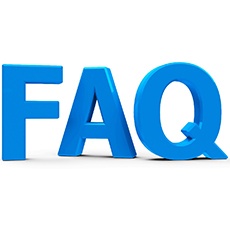 Dentures in Bella Vista have been used for generations because they are convenient and effective when treating significant tooth loss. They've undergone several improvements over the years to mimic your real teeth. Although they are tried-and-proven, you might still have a few concerns before you're ready to commit to them. We understand your apprehensions. Here are the answers to a few of the most common questions patients ask us about dentures.
What Qualifies You for Dentures?
There are 3 types of dentures you can benefit from depending on your severity of tooth loss. Patients who still have a few healthy teeth can fill the spaces with a partial while full dentures are recommended for complete tooth loss. As an alternative to a traditional denture, you can also anchor your new teeth to your jawbone using dental implants; however, you'll need to have adequate bone density to support them. Whether you've lost several or all your teeth from decay, infection, or trauma, most patients who have good oral and general health can qualify for dentures.
What Can't You Eat with Dentures?
Your dentures will closely function like your natural teeth, but there are some foods you should avoid, such as those that are sticky because they can pull your dentures out of place. Food particles can also get trapped under the denture and cause irritation. You may also want to skip overly hard foods and tough meats, like steak. It's best to cut your food into smaller pieces to make them easier to chew. If you want a stronger biting force, ask your denture dentist in Bella Vista about adding the support of dental implants to your smile. You'll regain as much as 70% of your natural biting force to enjoy your favorite meals again.
Can I Use Regular Toothpaste to Clean My Dentures?
Although your dentures aren't subject to decay, your oral hygiene routine is still important. Not only will it keep your mouth healthy, but it will also allow your dentures to look their best. Your dentist will recommend you brush them daily using a soft-bristled toothbrush. Don't use any toothpaste because it is abrasive, which can scratch the surface of your dentures. Instead, use a mild hand soap, dishwashing liquid, or denture cleaning solution. Don't forget to soak them every night while you give your gums time to rest.
How Can I Reduce the Cost of Dentures?
While everyone wants to save money, you'll get what you pay for when choosing dentures. Although there are many discounted materials, you'll compromise the quality of your new smile. It's better to choose durable materials, even if it means paying more. You have several options to keep your dentures affordable, such as using your dental insurance. While every plan differs, many policies can cover as much as 50% of the cost after reaching your deductible. Our office also accepts a variety of payment options, including traditional methods and third-party financing. We'll help you find the solutions you need to rebuild your smile without breaking the bank.