Smile Transforming Porcelain Veneers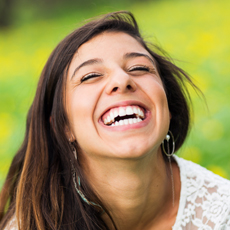 Getting a brighter, straighter, more beautiful smile is something many of our patients ask us about, but many people think that to get a celebrity smile they need to invest countless hours (not to mention dollars) in an extensive treatment plan. At Combs & Associates Family Dentistry, we offer a wide range of cosmetic dental services that will perfect your smile without breaking the bank or eating into your already busy schedule. One of the simplest ways to fully transform even the most flawed teeth into flawless smiles is a porcelain veneer treatment plan. If you're ready to get the beautiful smile you deserve, call our Bella Vista or Pea Ridge dental offices to schedule a cosmetic dentistry consultation today. We'll evaluate your smile and help you find the right cosmetic dentistry plan to meet your unique dental care needs.
What are Porcelain Veneers?
Veneers are thin sheaths of dental grade porcelain. They can be affixed to the front facing surfaces of teeth in order to correct and conceal any number of chips, cracks, stains, and gaps in the smile. With only minimal preparation, you can completely change the appearance of your smile with porcelain veneers.
Who is a Candidate for Porcelain Veneers?
Patients with healthy teeth and gums will be considered good candidates for porcelain veneers in numerous situations including:
Those whose teeth will not brighten with traditional teeth whitening plans
Those whose bite is functioning properly, but they have unevenly spaced or misaligned teeth
Those who have numerous chips, cracks, stains, and gaps in teeth following years of wear and tear
How are Porcelain Veneers Placed?
Porcelain veneers will need to be placed over the course of two dental appointments. During your initial visit, a small amount of surface enamel is removed. This allows the veneer to lay flat within your natural smile line. Then, we take impressions of your prepared teeth. These impressions, as well as our custom veneer design, are used by a trusted dental lab to craft high-quality veneers. To protect teeth and allow you to get used to the look of your new veneer, we'll place a temporary. When your final restoration is received from the lab, you'll return to exchange the temporary for a custom porcelain veneer leaving you with a picture-perfect smile.
Benefits of Porcelain Veneers
No two dental treatments are alike and no two patients have the same smile, but a good dentist can always help patients find the best treatments to meet their unique needs. If you decide to move forward with porcelain veneers, you can expect to experience numerous benefits including:
A picture-perfect smile in just two short appointments with little to no loss of healthy tooth structure
Comfortable treatment that can be completed with just local anesthesia
Correct and conceal any number of flaws with one minimally invasive treatment option
Long lasting and stain resistant, you can drink your morning cup of coffee or evening glass of wine and keep a flawless smile for years to come