Emergency Dentist - Bella Vista and Pea Ridge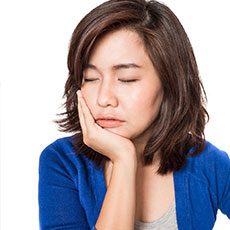 It can be difficult to know what to do in the face of a dental emergency, but it's easier when you know you have a reliable emergency dentist to call upon when you need help. That's right, you can rely on our expert dentist, Dr. Combs.
Don't hesitate to get in touch with our office the next time you experience a sudden dental accident that compromises the health of your smile. When you call us, our friendly, fast-acting office team will provide urgent advice over the phone. Plus, we will do our best to get you in to see the doctor as soon as possible—most likely scheduling you a same day appointment.
If you're not sure what a dental emergency is or when it's necessary to call your dentist in Pea Ridge, we've laid out a quick dental emergency guide to refer to in your time of need.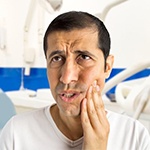 Knocked Out Teeth
When a tooth is suddenly knocked out of place, first ask yourself, is it possible for me to fit the tooth back into the socket? If so, gently put the tooth back in its proper place by biting down slowly until the tooth fits back in place. Then of course, call our office right away to complete your restoration process.
If the tooth is unable to fit back into its original place, simply rinse away any debris, being careful not to touch its root or lose any of the it's attached soft tissues. Store the tooth in its socket, in the cheek, or in a cup of milk while you give our office a call and begin traveling to us. Knocked out teeth are to be taken to our office because you have a much higher chance of restoring your natural tooth within an hour of the dental accident.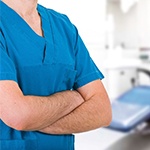 A Severe Toothache
If you have an aching tooth, it's for a reason—you should never ignore it. By the time you feel discomfort in a tooth, the initial dental problem has probably progressed, reaching the inner layers of your tooth. Emergency root canal therapy may be the only method for saving a severely infected tooth from having to be pulled to save the rest of your smile.
It's best to visit your emergency dentist in Pea Ridge right away because we will be able to evaluate the entire situation and make a genuine recommendation for recovery. Plus, we will be able to help you cope with any discomfort before, during, and after your dental work.
Damaged Dental Restorations
Have you lost a filling, temporary crown, or any other dental work? It's best to find your restoration immediately to avoid having to get more dental work completed. In the case that your restoration was holding a tooth or capping it from infection, be sure to cover it with a piece of sugar free gum until you can make it to our office. Don't eat, drink, or bite into anything while your dental restorations are missing or damaged.
Other Dental Emergencies
Although we discussed three popular dental emergencies that you might have to visit your dentist in Bella Vista for, here are some other emergencies that you should contact us about:
Continuous bleeding in the mouth.
A knocked-out tooth/teeth.
A damaged dental restoration.
An excruciating, consistent toothache.
Most importantly, remember to remain calm and contact your emergency dentist in Bella Vista immediately. We're here for you in your time of need!