Our Restorative Dentistry Services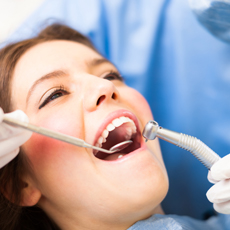 Oral damage happens to the best of us, and it's certainly nothing to be ashamed of. Instead, find the support and skilled attention you need here at Combs and White Family Dentistry. Our Bella Vista and Pea Ridge offices effectively treat everything from minor cracks in enamel to missing teeth, and we'll do our best to preserve both your oral health and the aesthetic appearance of your smile. With the help of our state-of-the-art technology, Dr. Chris Combs and Dr. J Cole White are pleased to offer crown & bridge, root canal therapy, and removable dentures as part of our restorative dentistry services If you've experience tooth decay or damage, don't hesitate to contact us to schedule an appointment in our Bella Vista or Pea Ridge dental office today. We'll get to work repairing your damaged smile right away.
Tooth-Colored Fillings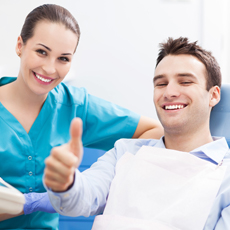 For minor tooth decay, chips, and cracks, we can use composite resin, tooth-colored filling materials to fully repair your smile. In just one appointment, we can apply your tooth-colored filling and you can leave with a flawless smile. The process is simple and conservative. We apply the putty-like composite resin to the surfaces of teeth where we can shape the material into position, replacing lost tooth structure. Once the filling is placed, a low heat curing light is applied to harden the filling into place.
Dental Crowns & Bridges
Dental crowns are used for more advanced tooth decay and dental damage. When a filling is not adequate to repair your tooth, a dental crown can be fitted over the top of the tooth to protect the remaining structure and replace the lost tooth enamel. Fixed bridges are tooth replacement prosthetics that use dental crowns to support one or more prosthetic teeth. The dental crowns are attached to both sides of the replacement tooth or teeth, and they are attached to surrounding teeth to support the prosthetic.
Removable Partial & Full Dentures
Have you lost a significant number of teeth? Our customized dentures offer patients a fast and convenient solution that allows them to speak, eat, and share a confident smile. Full dentures are perfect for those who are missing an entire top or bottom arch of teeth, while partial dentures can be designed to replicate your unique smile in a near-seamless fashion. Both options are removable for easy cleaning and comfort. Implant-retained prosthetics are also available from our Bella Vista, AR and Pea Ridge, AR practices if you're looking for a little more stability!
Dental Implants
Dental implants allow us to replace any number of missing teeth from the roots up. Implant posts are inserted below the gum line where they mimic the lost root system of the tooth, providing stability for the replacement teeth. One or more dental implants can be used to support any number of replacement teeth from a single dental crown to a full denture.
Root Canal Therapy
When tooth decay or damage reaches the inner layer of the tooth, the pulp, where the nerve system is housed, the result can be painful toothache and dental sensitivity. To relieve the toothache pain, renew oral health, and avoid tooth loss, we will likely recommend root canal therapy. These treatments are performed by removing the pulp and nerve tissue. Then, the tooth is filled with a biocompatible substance. We seal the tooth, and in most cases, a dental crown is placed to protect the root canal treated tooth. The procedure itself is much more comfortable than most people think, and in most cases, patients experience significant relief from toothache pain.