Dental Implants – Bella Vista, AR
The Gold Standard for Replacing Missing Teeth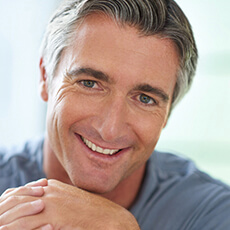 When it comes to tooth replacement, there is one treatment that stands above the rest: dental implants in Bella Vista. If you've been living with missing teeth, then now is the time to act. The first step is simple: just contact us at Combs & Associates Family Dentistry to request an initial consultation with Dr. Combs. During your visit, you'll learn more about the dental implant process, and you'll be able to ask any questions you may have. After you're educated about the process, we can move forward with helping you enjoy a fully restored and functional smile!
Why Choose Combs & Associates Family Dentistry for Dental Implants?
Partners with the Best Local Dental Implant Specialists
Fair Fees and Flexible Payment Options
Patient Comfort Is Our Top Priority
What Are Dental Implants?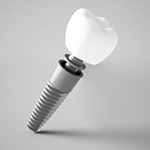 Dental implants are a tooth replacement option that doesn't just give you back your missing tooth -- they also provide the supportive root structure that lives beneath the crown. With a comprehensive solution, your jawbone stays healthy and whole, preventing the loss of volume in the mouth and keeping the rest of your natural teeth intact.
Unlike traditional dentures and bridges, which just sit atop the gums, a dental implant is placed directly in the jawbone. Then, a lifelike crown, bridge, or denture is placed on top of it. This custom-made solution allows dental implants to look, feel, and function just like your original teeth did. For this reason, most dentists, including ours, wholeheartedly believe that dental implants truly are the gold standard for replacing missing teeth!
The 4-Step Dental Implant Process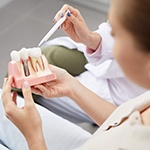 The process of getting dental implants takes time; however, it is time well spent to ensure your new smile has a healthy foundation. While we work closely with local dental implant specialists for the surgical portions of your treatment, rest assured that you'll received personalized care every step of the way. To give you a general idea of what to expect, here is a basic outline of the process of how dental implants work in Bella Vista.
Initial Dental Implant Consultation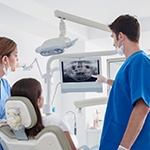 First, you'll visit with Dr. Combs to discuss your goals for your smile and whether dental implants are the best way for you to achieve them. Our team will also thoroughly examine your mouth to determine if you can currently accommodate dental implants. For instance, your jawbone must have sufficient density to support the posts, but if it doesn't, you may need to undergo a bone graft or sinus lift. Once we've taken care of any necessary preliminary procedures, we can schedule your placement surgery with a skilled implant dentist in Bella Vista.
Dental Implant Surgery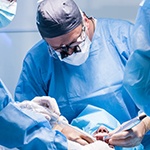 We'll refer you to a local oral surgeon for your dental implant surgery. This way, you can be sure that you're getting the highest quality of care possible from a true expert in the field. Before the procedure begins, you'll receive anesthesia to help you relax and stay comfortable. To place your implants, the surgeon will make incisions in your gums to access your jawbone, placing the posts at precise locations and angles. Then, they'll carefully seal up the area and send you home to begin the healing process.
Dental Implant Osseointegration & Abutment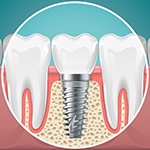 Over the next three to six months, a remarkable process called osseointegration will occur. Osseointegration is when the biocompatible dental implants fuse to the surrounding bone and tissue, creating the powerful bond they need to last a lifetime. You will likely receive a temporary restoration during this time so that you don't have to go without teeth. After osseointegration is complete, you'll undergo a brief procedure to have your abutments placed. These small metal connectors attach to the tops of your dental implants in Bella Vista, allowing them to support a custom-made dental crown, bridge, or denture.
Delivery of Dental Implant Restorations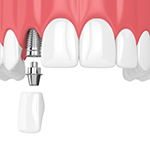 A few weeks after your abutment procedure, you'll return to our office to receive your restoration at last. Your brand-new teeth will have been designed to mimic the size, shape, and color of your original pearly whites, ensuring a flawless appearance. After making any last-minute adjustments and cementing your restoration into place, you're free to enjoy your new and improved smile!
Benefits of Dental Implants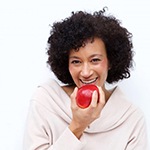 As more and more people learn about the benefits of dental implants in Bella Vista, it's not surprising that this method of tooth replacement is becoming increasingly popular. In fact, about 500,000 Americans get dental implants each year, according to the American Academy of Implant Dentistry. It's easy to see why – dental implants provide remarkable benefits that traditional solutions cannot. Read on to learn about some of the ways that dental implants can change your life!
Day-to-Day Benefits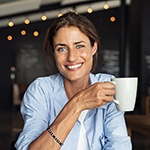 Eat without worry – Denture-wearers tend to shy away from steak, apples, and other foods that can be tough to chew. While dentures only restore about 20-30% of the biting power that you had with your natural teeth, dental implants bring it back almost completely. With dental implants, you can eat all of the crunchy, chewy foods you want!
Enjoy your favorite beverages – Traditional dentures are also known to warp when exposed to hot beverages like tea or coffee. In contrast, dental implant restorations are designed to maintain their shape no matter what you drink.
Smile confidently – Your implant dentist in Bella Vista will carefully design your replacement teeth to look exactly like your original ones. Other people shouldn't even be able to tell that they're not your "real" teeth! Plus, you can smile with the confidence that your teeth are securely in place – they won't move around or fall out of your mouth.
Health Benefits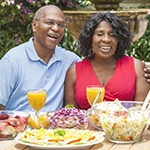 Jawbone preservation – Dental implants are the only tooth replacement that stimulates the jawbone in the same manner that actual teeth do. Not only does this prevent the wrinkled appearance that typically occurs after teeth have been lost, but it also keeps the jawbone strong, preventing oral heath issues like further tooth loss.
No tooth sensitivity or gum irritation – To place a dental bridge, some enamel has to be removed from the two natural teeth on either end of the gap, making them more susceptible to sensitivity. Dentures eventually lose their fit and slip around in your mouth, irritating your gums. Dental implants in Bella Vista are self-supporting and remain firmly in place, so they eliminate both of these problems.
Improved overall health – A study published in Periodontology found that individuals who had lost five or more teeth by age 65 were more likely to have diabetes, cardiovascular disease, and osteoporosis than those with all of their teeth. Because dental implants function exactly like natural teeth, it's reasonable to assume that they would prevent the increases risk of these medical conditions.
Long-Term Benefits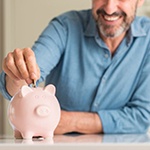 Lasting results you can trust – Dental implants boast a remarkable success rate of more than 95%. As long as you take good care of them, your new teeth should be able to last for decades, possibly even for the rest of your life!
Saved money and time – Dental bridges and dentures cost less up-front than dental implants do. However, traditional solutions only last five to ten years on average, while dental implants can easily last for 30 or more. In the long run, dental implants can save you countless hours and dollars that would otherwise be spent on repairs, replacements, cleaning products, and trips to our dental office.
Who Dental Implants Can Help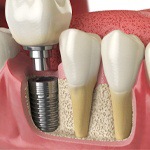 If you're wondering whether dental implants are right for you, then there are a few indicators to keep in mind. For starters, the procedure provides a way for patients missing any number of teeth to have them replaced. Depending on the specific needs, here are the available options:
Missing One Tooth
Even if only one tooth is missing, it's still important to replace it. That's because over time, the surrounding teeth can begin to shift in attempt to find the necessary tension they need to maintain their position. Consisting of a titanium implant, abutment (titanium anchor) and porcelain crown, the single tooth dental implant procedure creates a full and attractive smile.
Missing Multiple Teeth
When multiple teeth are missing, the best solution is to receive an implant-retained bridge. Instead of resting atop the gums like a traditional bridge, the former, which consists of several porcelain teeth affixed to a single apparatus, attaches to the implant via an abutment. The result is a secure and lasting fixture that won't slide or shift.
Missing All Teeth
For situations where all teeth are missing, a full mouth reconstruction is necessary. The procedure involves the insertion of a strategic number of implants that are angled perfectly to provide the best support possible. Because of this method of implant placement, patients don't have to endure several invasive surgeries.
After the initial insertion of the implants and their fusion with the underlying jawbone, abutments are added that allow a set of dentures to be permanently fastened.
Understanding the Cost of Dental Implants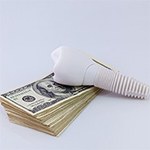 Dental implants allow you to enjoy a solution that looks and feels natural. Not to mention, they can last for a lifetime with the right aftercare to make a true investment in your smile. Although you're excited to treat your tooth loss, we know you're concerned about the cost of dental implants in Bella Vista. There's no need to worry. They are more affordable than many people realize. Here's what you need to know to pay for your new smile.
Types of Dental Implants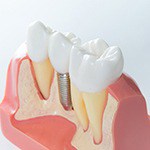 There isn't a set cost for dental implants because the price is determined by your specific treatment plan, like the number of teeth you're replacing. Generally, you can expect to pay more if you need to treat several teeth because you'll require more posts and abutments. The type of restoration you need will also impact the cost. We'll provide you with an estimate and discuss the costs associated with your treatment during your initial consultation.
What Are the Stages of Dental Implant Treatment?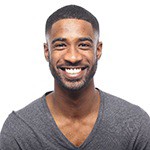 Unlike conventional prosthetics, the process of rebuilding your smile with dental implants will take several months to complete because there are various steps required. Although it may take a bit longer, it's time well-spent because you will gain a solution with over a 95% success rate. This also gives you more time to pay because you won't need to cover the entire amount upfront, which can make your treatment more affordable. Although every plan varies, you can expect to pay for:
Initial Consultation: You'll need an initial consultation to ensure you're a candidate for dental implants. Besides a visual examination, you'll also need digital X-rays and a CT scan.
Additional Procedures: You may need additional procedures before your placement surgery, like periodontal therapy or bone grafting.
Implant Surgery: Sedation or anesthesia is required as your implant posts are surgically placed into your jawbone.
Abutments: Each implant post will require an abutment to connect your restoration.
Restoration: Your restoration is made of high-quality material to last for years.
Are Dental Implants Worth the Investment?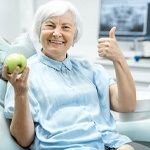 Although you'll initially pay more for dental implants upfront, they are most cost-effective long-term because they should never need to be replaced with the right aftercare. Not to mention, they improve your oral health to reduce your overall dental expenses.
Does My Dental Insurance Cover Dental Implants?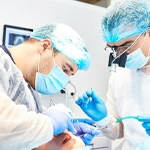 Many dental insurance carriers will pay a portion of the cost of the treatment until you reach your yearly limits, but you'll need to pay your deductible first. We work on your behalf with your insurance company to reduce the amount you need to pay. We will explain any out-of-pocket expense and your payment options, like third-party financing with CareCredit.
You can permanently treat your tooth loss with dental implants in Bella Vista. We have the solutions you need to keep your new smile affordable. Contact our office today to schedule your consultation.
Dental Implant FAQs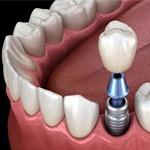 Dental implants in Bella Vista are an excellent option to permanently replace your missing teeth. Although you're excited to rebuild your smile, we know you still have several questions about what lies ahead. Don't worry, we will take the time to address your concerns during your initial consultation. While you wait for your appointment, here are the answers to a few of the top questions we hear to put your mind at ease.
Am I Too Old for Dental Implants?
Age doesn't determine your candidacy for dental implants as long as you've finished growing. Instead, there are several other factors your dentist will consider when determining if dental implants are right for you, such as your oral health and your lifestyle habits.
Are Dental Implants Painful?
The process of replacing your missing tooth will involve surgically inserting an implant post into your jawbone. As with any surgery, it's normal to be concerned about feeling any pain, but you have nothing to worry about.
If you're only having a single tooth treated, you may only need a local anesthetic; however, if your case is complex, we may recommend sedation or anesthesia, so you won't feel any pain during the procedure. You will experience some discomfort while you heal, but it can be managed with over-the-counter pain relievers.
Can Dental Implants Fail?
Dental implants in Bella Vista are the most successful and reliable tooth replacement treatment. In fact, their success rate is over 95%. Although they are proven to last for decades with the right aftercare, they can fail, but it is rare. The risk of implant failure is less than 5%, so you shouldn't be concerned about it if you take the time to follow a few simple tips:
Maintain your oral hygiene at home.
Visit your dentist at least twice a year.
Don't smoke.
Don't drink alcohol in excess.
Wear an athletic mouthguard if you play sports.
Can I Get Dental Implants If I Have Gum Disease?
The long-term success of your new smile relies on remaining infection-free. As a result, you can't get dental implants if you have active gum disease, but that doesn't mean you can't become a candidate for them.
Periodontal therapy will stop the infection to create the foundation your new smile needs to thrive. Besides treatment for gum disease, you may also need additional procedures to repair the damage caused by the infection, such as tooth extractions or bone grafting. Although it will add more steps to your treatment, they are essential for promoting the overall success of your dental implants.