Our Dental Implant Services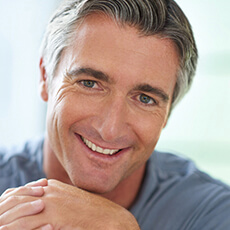 Losing one or more teeth can be a devastating blow to both oral health and your sense of self-confidence. Here at Combs & Associates Family Dentistry, our team wants to help you regain your full smile. Multiple reconstructive solutions are available, depending on your unique needs and preferences. In many cases, Dr. Chris Combs recommends dental implants. This state-of-the-art treatment option offers patients many benefits including exceptional quality, long lasting durability, and a truly seamless appearance.
Why are dental implants the best choice?
Your tooth is composed of two distinct and equally important components: the crown and the root. The crown is the white portion that shows when you smile. The root, hidden beneath the gum line, stimulates the jawbone and anchors teeth. All reconstructive solutions replace the crowns of teeth, which certainly improves the appearance of smiles, but oral health suffers without roots in place. Dental implants are the only treatment option available that seamlessly replicates the entire structure of the tooth and reinvigorates your smile.
The Dental Implant Process
Once we've determined that you're a good candidate for dental implants, Dr. Combs recommends you to a trusted dental specialist in the area who handles the surgical placement. Our office works closely with this professional every step of the way to ensure you're receiving comfortable, personalized care. Once your implant has been placed, a period of healing is needed so your new implant(s) create strong bonds with your natural gum and bone tissue. This bond creates a foundation for your new restorations.
After you've successfully healed, all that's left is for you to return to our Bella Vista or Pea Ridge dental office so one of our doctors can design and place a brand-new restoration. These restorations are high quality, tooth-colored materials so the results are naturally gorgeous.
Implant-Retained Prosthetics
Even patients who've experienced significant tooth loss can enjoy dental implant replacement! Our implant-retained prosthetics are designed to look just like a traditional bridge or denture with one important change: they lock into place over a small number of strategically placed implants, creating a more lifelike and stable fit for patients. Contact Combs & Associates Family Dentistry today to schedule an implant consultation at our Bella Vista, AR or Pea Ridge, AR locations!