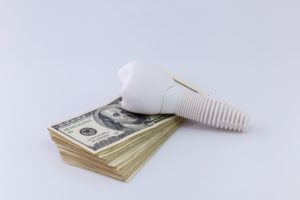 Although you've spent more time at home over the last few months, the year has flown by. Believe it or not, 2021 is almost here, which means your dental insurance policy is about to expire. On average, less than 3% of Americans exceed their annual limits, so you likely have several benefits you're about to lose. Don't throw money down the drain! Now is the perfect time to use your coverage to help offset the cost of dental implants to enjoy a complete smile for the new year.
How Does Dental Insurance Work?
Every month you pay a premium for your specific policy, which gives you access to a list of comprehensive benefits that allow you to maintain a healthy smile for reduced rates. Dental insurance focuses on prevention because research shows it reduces overall oral health costs; however, you also have coverage for restorative services. After reaching your annual deductible, you will have a yearly limit to help reduce the amount you pay for certain treatments. Unfortunately, your benefits don't last forever. They will expire at the end of the year, and you won't be reimbursed for anything you don't use.
Can I Use My Policy to Pay for Dental Implants?
Every policy is unique, but most insurance plans can be used to lower the cost of certain steps in your treatment, like the consultation, digital imaging, and restorations. A member of your dental team will work on your behalf to file the necessary claim forms to lower your out-of-pocket expense. They can even split the cost of your plan into the new year to help keep your new smile affordable.
How Can I Pay for Dental Implants?
Despite what you might have heard, dental implants are more affordable than you may realize. Your treatment is performed in separate steps, each having its own cost. As a result, you won't need to cover the entire amount at once. You'll have more time to pay to stay within your budget.
In addition to using your insurance, many dental offices accept a variety of payment methods to keep your treatment affordable, like third-party financing. Based on your credit's approval, you're given the funds for your treatment, which you'll repay using a plan that suits your needs.
Invest in a Permanent Solution
It's true, dental implants are initially more expensive than traditional options, but they are the most cost-effective long-term. Dental implants are proven to last for decades with the right aftercare, so you'll never need to pay to have them replaced. Not to mention, they improve your oral health to lower your dental care expenses. If you have any benefits you're about to lose, use them to invest in a beautiful smile.
About Dr. Chris R. Combs
Dr. Combs has over 2 decades of experience in dentistry. He creates healthy, beautiful smiles using the latest innovations in dentistry, like dental implants. Our office is in-network with many leading insurance carriers, like Delta Dental Premier and Cigna. We'll maximize your policy to replace your missing teeth. Contact our office today to schedule your consultation.