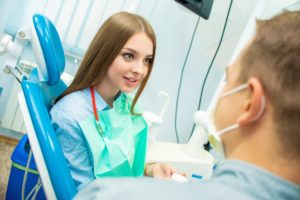 As you head into the new year, what better time than now to commit to a healthy smile? Your dental benefits have been reinstated, which means you have access to the affordable coverage you need to keep your teeth and gums healthy. Although you have all year to use your policy, there are advantages to visiting your dentist early in the year. Here are 5 reasons to schedule your semi-annual dental checkup soon.
1. Start the year with a healthy smile.
Routine services from your dentist are necessary to remove any accumulations left behind by your toothbrush and floss to keep your smile looking great. In addition to a cleaning, your dentist also performs a complete examination to look for any concerns, like tooth decay or gum disease. The problem will be resolved quickly to ensure you start 2021 with optimal oral health.
2. Reduce your oral health expenses.
If you're looking to save money during the year, visiting your dentist every 6 months will reduce your long-term oral health costs. Research shows every $1 spent on prevention saves as much as $50 restorative or emergency services. Your dentist can prevent and detect common oral health complications to lower your risk of needing a costly treatment down the road.
3. Prevent unplanned dental appointments.
No one has time in their day for an unexpected trip to their dentist. You can lessen how often you're in the dental chair by maintaining your preventive appointments. Your dentist will monitor your oral health to ensure there aren't any untreated problems lingering in your mouth that can lead to a dental emergency. Although you might never expect one to happen to you, 1 in 6 Americans requires urgent dental attention annually.
4. Maximize your dental insurance.
Your dental insurance doesn't last forever. Your coverage will expire at the end of the year. You won't be reimbursed for anything you don't use, and nothing carries over to accumulate. With less than 3% of Americans meeting their annual limits, you could throw hundreds to thousands of dollars down the drain if you don't use all your coverage. Scheduling an appointment early in the year allows your dentist to help you make the most of your monthly investment to achieve a healthy smile.
5. Improve your general health.
Your mouth is the gateway to your body. There are several oral health complications that can affect your general health. By improving your smile, you'll be promoting your overall wellness to make sure you feel your best throughout the year.
Keep a healthy smile at the top of your New Year's resolution list. Schedule your dental checkup early to head into 2021 with your best foot forward.
About Dr. Chris R. Combs
Dr. Combs has over 20 years of experience in dentistry. After earning his dental degree at the Texas A&M Baylor College of Dentistry, he has been committed to continuing education to provide exceptional services at affordable rates. If it's time for your next cleaning and checkup, contact our office today to schedule an appointment.