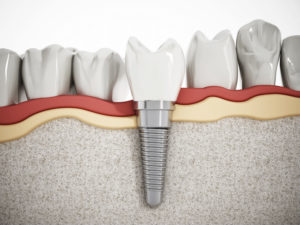 We're in something of a golden age of dental implants. The American Academy of Implant Dentistry reports that 3 million people in the US already have dental implants, with that number rising by 500,000 each year.
What's to thank for the success of dental implants? Your Pea Ridge dentist knows there are several reasons implant dentistry is booming, including:
Dental implant mimic the natural tooth structure so they look and function more naturally than other options in tooth replacement.

By supporting the jawbone, dental implants promote better oral and overall health.

Dental implants can last a lifetime with proper care and maintenance. Other options must be periodically replaced.
Dental implants also have a very high survival rate. It is estimated that over 98% of dental implants survive (i.e. are successful).
Occasionally, though, dental implants do fail. Some are not placed correctly, and sometimes the body is not healthy enough to accept the new material. Mostly, though, implant failure is due to a condition known as peri-implantitis. This is an infection that develops around the implant, inhibiting bone growth and causing the implant to become loose and/or fall out.
Scientists are currently studying ways to improve the already very high success rate of dental implants. A team from the School of Biological Sciences, Peninsula Schools of Medicine and Dentistry and the School of Engineering at the University of Plymouth in the UK has developed a new nano coating method to further reduce the risk of implant failure.
About the Study
By sealing the surface of titanium dental implant posts with silver, titanium oxide and hydroxyapatite nanocoatings, the researchers found they inhibited the growth of bacteria on the implant by more than 97%. The nanocoating also simultaneously supported bone growth and promoted the healing of the dental implant.
The implications for this study are significant for implant dentistry. By promoting implant success, nano coating could potentially increase patient comfort and save patients a significant amount of money on implant procedures.
Details of the study have been published in the journal Nanotoxicology.
Reducing Implant Failure
Nano coating seems very promising for the future of dental implants. But until it is a common practice, patients should continue to take steps to reduce implant failure after implantation. By maintaining solid dental hygiene and visiting your dentist as recommended, you can reduce bacterial growth and biofilm buildup to prevent peri-implantitis. Staying away from tobacco and maintaining a balanced, nutritious diet will also promote better dental implant health.
About the Authors
Dr. Chris R. Combs and Dr. J. Cole White are trusted sources of dental implant care in Bella Vista. To learn more about their services or to schedule an appointment to discuss your candidacy for dental implants, you are invited to contact the office at 479-855-6764.