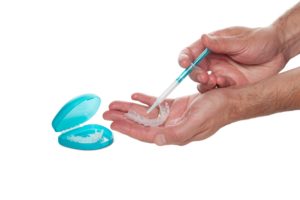 Does your smile look dull or tarnished? You're not alone. Your teeth will naturally darken over time because your enamel becomes thinner from daily wear and tear. Besides age, there are several other factors that can cause your teeth to darken. At the first sign of discoloration, you might have tried a few over-the-counter whitening products because they are convenient, but you may not achieve the results you want. Although they are similar to at-home kits from your dentist for teeth whitening in Bella Vista, there are some big differences. Here's what you need to know to ensure you get the bright results you want.
Over-the-Counter VS At-Home Whitening Kits
As you walk down the oral care aisle in the store, you're surrounded by numerous teeth whitening systems claiming to provide amazing results. While they may look like the kits you receive from your dentist, there are some variations between the two:
Concentration of Whitening Agent
Over-the-counter whitening kits do not contain professional-grade whitening agents. As a result, the formulas can't penetrate below the enamel to resolve stubborn stains. At-home kits from your dentist include the same strength whitening gel as what's used with an in-office treatment. Your teeth can become as much as 8-10 shades brighter after just a couple of weeks.
Custom-Fit Trays
Many over-the-counter products come with whitening trays to apply the gel to your teeth. Unfortunately, they aren't custom fit to your mouth. Not only can this cause discomfort, but also inconsistent results. Professional at-home teeth whitening in Pea Ridge features customized trays that fit your mouth comfortably. This also ensures the even distribution of the whitening agent to achieve the best results.
Safety
DIY whitening kits claim to be safe; however, there are always some risks involved. You can choose a safe solution by visiting your dentist for an at-home kit. You'll be under the supervision of a dentist to minimize any unexpected complications while on your journey to a bright smile.
Convenience
Both over-the-counter and at-home kits are convenient because you can brighten your smile around your own schedule. You may need to commit to an OTC system long-term to maintain any results, whereas at-home solutions are only needed for 2 weeks to see a significant transformation in the color of your teeth. This is perfect for busy adults who want a dazzling smile from the comfort of home.
Which is Right for Me?
If you want to achieve drastic improvement to your smile, it's best to skip the hassle and disappointment of an over-the-counter product. Instead, enjoy proven results using an at-home kit available from your dentist. Invest in a bright smile using a professional solution.
About Dr. Chris R. Combs
For over 2 decades, Dr. Combs has provided comprehensive dental care to help his patients achieve their best smiles. He has completed advanced training with the Pankey Institute and Spear Study Club to provide the latest solutions, like cosmetic dentistry. If you're interested in achieving a brighter smile, contact our office today to schedule your consultation for at-home teeth whitening.