What Sets Our Bella Vista Dental Office Apart
We're Honest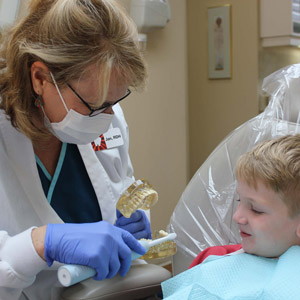 Dr. Combs and Associates never try to upsell you on services you don't really need. We strongly believe in providing conservative care that gets the job done and exceeds your expectations regardless.
We're Kind
We love getting to know our patients and hearing about their lives when they come in for appointments at either our Bella Vista or Pea Ridge locations. Forming a relationship with you is important to us.
We're Hi-Tech
Our team does everything we can to stay right at the forefront of technological advances. Our offices are completely digital, and they feature many advanced tools that make your treatment simpler and safer.
We're Green
It's important to us that we use environmentally friendly materials when providing dental care. We love doing our part for the planet!
We're Clean
We uphold high levels of cleanliness and sterilization so that patients of all ages feel safe and comfortable within our offices.
We're Thorough
Dr. Combs and the rest of our staff take time to ensure that all dental problems, no matter how small, are caught and cared for as soon as possible.
We're Dedicated
Integrity is an important part of our practice, and we'll do whatever we can for you and your loved ones. We think everyone deserves to enjoy a happy, healthy smile!
We're Thoughtful
Every team member takes the time to get to know you and your family. This helps us personalize our care so every patient has a wonderful experience.