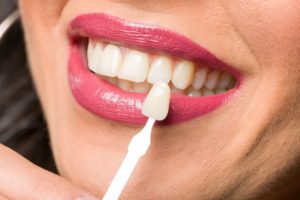 Are you unhappy with how your smile looks? One of the great things about living in today's world is you don't need to settle for a grin you don't feel confident about. There are several cosmetic dental treatments that can help correct flaws, such as porcelain veneers. They can address all sorts of aesthetic issues like teeth that are misshapen, chipped, gapped, discolored, or undersized. But you may be wondering, how much enamel needs to be removed for veneers to be placed? Continue reading to learn more from your cosmetic dentist in Bella Vista.
What Is the Procedure for Enamel Removal Like?
This procedure is minimally invasive. Your dentist only removes a small amount of protective enamel from the front surface of your teeth. Next, a model of your mouth will be made and sent off to a dental lab where your permanent veneers will be made. Until then, you will be given a temporary set to wear while you get ready for the real thing. When your next appointment rolls around, some minor adjustments will be made, and your veneers will be adhered to your teeth using special dental cement.
Why Does Enamel Need to Be Removed Before Veneers Are Placed?
There are two main reasons why your enamel needs to be shaved down. First, the veneers must be bonded to the teeth to stay in place. Removing a small portion of enamel creates a surface to which the veneer will easily adhere.
Also, without removing any enamel, your teeth would appear to be bulky after the veneers are placed. By removing some of it, your smile looks more natural, and the veneers blend in nicely.
How Much Enamel Needs to Be Removed?
Your dentist will take off enough enamel for the procedure to be successful, but not too much where it damages the overall structure of the teeth. Sometimes, teeth only require minimal shaving but most of the time you can expect about half a millimeter to be removed. Your dentist wants to conserve as much natural tooth structure as possible to keep your smile healthy. However, you should know that your enamel does not grow back, so porcelain veneers are a permanent cosmetic option.
Veneers are a great choice to optimize the appearance of your teeth. They are customized to be the exact color for beautiful, natural-looking results. Now that you know how much enamel needs to be removed for veneers, ask your dentist in Bella Vista if you are a good candidate for this treatment. Veneers may be a commitment but feeling confident is priceless!
About the Author
Dr. Chris Combs has been working hard for the smiles of his patients for more than two decades. He earned his dental doctorate at Texas A&M Baylor College of Dentistry. He is diligent about continuing education courses and has studied with the Pankey Institute and SPEAR Study Club. If you are interested in porcelain veneers, Dr. Combs can transform your smile in two appointments. To get started, schedule a cosmetic dentistry consultation on his website or by calling (479) 855-6764.