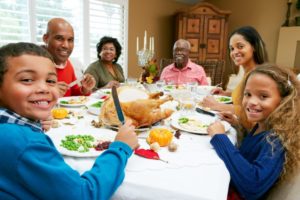 It's understandable that Santa's Elves might get a bit stressed out when the holidays are approaching because of how many toys they have to build, but those little guys aren't the only ones who might feel concerned. Your teeth may be trembling at the prospect of another holiday season.
While the holidays bring plenty of traveling, parties, and gift-giving, they also involve a lot of eating. Many people will let their diet slip when it comes to holiday foods, but it's not okay to relax on your dental hygiene.
Read on for some ideas from your dentist in Bella Vista on how you can have a great time while your oral health stays in excellent standing to close out 2021.
Take a Toothbrush on Your Travels
Actually, take a toothbrush, some floss, and a travel-size mouthwash. This time of year often means traveling and if that is the case for you, don't leave concern for your oral hygiene at home. You can also get a dental travel kit at a pharmacy if you need to save space.
Being Careful with Hard Candy Is an Easy Decision
Copy the suggestions from a Halloween candy blog and paste them into this section. Hard candies like peppermints and candy canes can crack your teeth if you bite too hard into them. If you can't pass on the canes this year, then try to limit your intake and brush your teeth after eating any candy. Even if you don't crack your teeth eating hard candy, it can be really stubborn about sticking to your teeth.
The Best Drink of Water Is Always the Next One
There is wine and soda to be had at every holiday party but be careful for the sake of your teeth. Fizzy water is a better option than soda, but if you go the soda route then try to use a straw to keep most of the acid off your teeth, and remember that dark cola can stain enamel. When drinking wine, remember that red wine is a major culprit for tooth stains. White wine is less of a staining risk, but a risk nonetheless so be sure to brush afterward.
A Second Helping of Turkey and Veggies? Yes Please!
There are foods at the holiday party that taste good but don't leave your teeth trembling. Passing on cookies and opting for vegetables is a huge win for your teeth. Broccoli and carrots specifically have a lot of vitamin A to strengthen your enamel. Turkey is another holiday food that's great for you. It's loaded with phosphorus and protein, which can both help keep your teeth healthy.
Don't Let Your Teeth Star in The Nutcracker
Don't use your teeth to open plastic toy wrapping or other holiday packaging. Hopefully, this one goes without saying, but just in case, don't crack nuts with your teeth. The hard surface of most nutshells can cause severe tooth and gum damage. They can certainly crack teeth.
Delicious foods, seldom-seen family members, football, parties – there's a lot going on during the holidays to distract you from your oral health routine. Try to stay on top of caring for your teeth and gums, even if you are in relaxation mode otherwise. A visit to your dentist in Pea Ridge after the holidays for a professional cleaning is a wise move.
About the Author
Dr. Chris Combs has been working hard for the smiles of patients for more than two decades and he strives to provide the people of Bella Vista and Pea Ridge with skilled dental services. A native of Hot Springs, Dr. Combs earned his dental doctorate from Texas A&M Baylor College of Dentistry. He and his wife have four children, so they understand how proper oral hygiene can become more challenging with the hustle and bustle of the holidays. By keeping these tips in mind, however, it can be done. After the holidays are over, Dr. Combs will be ready to help with a dental cleaning and exam. You can make an appointment by visiting his website and selecting the office location that is most convenient for you.