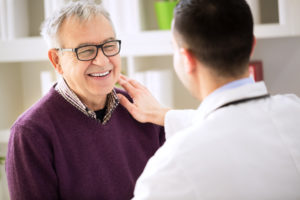 If you are among the 178 million Americans missing at least one tooth, you are probably looking for an effective form of tooth replacement. Now, several advancements in dentistry provide you with various options, but which one will meet your needs? As your dentist in Pea Ridge, Combs & White Family Dentistry offers multiple choices to regain a complete smile. After performing an initial consultation, we will discuss our recommendations to help you treat your tooth loss.

Why Do I Need to Replace Missing Teeth?
Every tooth in your mouth has an important role in your oral health and functions. When even one is lost, your dental health starts to decline. Your underlying bone is no longer stimulated, causing your bone density to decrease.
The lack of support will eventually cause your remaining teeth to shift toward the open space. This makes them difficult to clean, increasing your risk for tooth decay and gum disease. However, as time goes on, they will eventually become loose and fall out. As you lose more, it will become difficult to eat, causing you to develop nutritional deficiencies.
What are My Options?
Now, you have many options to replace your missing teeth. Due to advancements in dentistry, they look more natural than ever before while improving your oral functions and health.
Dental Bridge: As one of the most common options to replace one or more missing teeth, a bridge of prosthetics is created to fill the gap. They are held in a gum-colored base that is attached to a metal framework. Dental crowns are placed on the adjacent teeth to hold it in place. This is an affordable and convenient means to solve tooth loss.
Dentures: Dentures have held a common place in tooth replacement for more than 100 years. The prosthetics are held in a gum-colored base that is attached to the gum tissue using a denture adhesive. Now, they look more natural than ever before while offering an ideal fit to eat and speak with confidence and without any discomfort.
Dental Implants: As the most preferred solution to treat tooth loss, you can permanently replace your missing teeth with dental implants. An implant post is surgically placed into the jawbone to anchor the prosthetic in place. When compared to other options, they are the closest solution that looks and functions like natural teeth. Not to mention, they are the only one to stop bone loss to protect your remaining natural teeth. With over a 95% success rate, you will make a true investment in your dental health and quality of life when using them to replace one or more missing teeth—even a full arch.
Where Can I Replace My Missing Teeth?
If you are ready to regain a complete smile, it is time to schedule your consultation with Combs & White Family Dentistry. We will evaluate your tooth loss and discuss your options for tooth replacement. With a customized treatment plan, we will help you regain a confident, healthy smile.