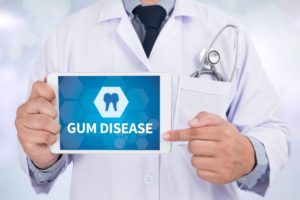 Gum disease afflicts millions of adults across the United States. Most people do not even realize that they have it because the symptoms are practically unnoticeable at first. However, as the condition progresses, it can lead to devastating consequences. Let's talk about how untreated gum disease in Bella Vista may be able to destroy your oral and overall health — and how you can stop it before it causes permanent damage.
The Two Stages of Gum Disease
Most people with gum disease have gingivitis, the earliest form of the condition. It's characterized by mild inflammation of the gum tissue. Therefore, the gums may bleed easily during brushing and flossing, and they might be slightly red or swollen. Gingivitis does not result in irreversible damage to the gums or teeth. In fact, if you have this condition, you may be able to reverse it with a few simple adjustments to your oral hygiene routine.
If gingivitis is left untreated and progresses to the next stage of gum disease, periodontitis, it can wreak havoc on a person's oral health. The bacteria that causes the inflammation begins to eat away at the gums and bones that support the teeth. Pockets form around the tooth roots, which become havens for disease-causing bacteria. Bleeding gums, persistent bad breath, loose teeth, gum recession, and even tooth loss are all common symptoms of periodontitis.
As if a ruined smile isn't enough, gum disease can also have consequences for a person's overall health. The bacteria that causes gum tissue inflammation can sneak into the bloodstream and contribute to conditions such as cardiovascular illness, dementia, and more.
How Your Dentist Can Help
Your dentist in Bella Vista is your best friend in the fight against gum disease. If they notice early signs of gingivitis, they can coach you on how to adjust your daily habits to reverse the problem. By attending checkups every six months, you may even be able to prevent gum disease altogether.
However, if you have periodontitis, you may need periodontal therapy in Bella Vista. Periodontal therapy is any one of a number of treatments that are designed to fight gum disease. One common procedure in this category is scaling and root planing, which essentially equates to a deep cleaning of the mouth. Antibiotic therapy can also play a role in ridding your mouth of harmful, disease-causing bacteria. In extreme cases, surgical intervention may be necessary. Following periodontal therapy, it's important that you follow up regularly with your dentist to prevent future gum problems.
Your gums are precious! By being aware of the risks of gum disease, and by working closely with your dentist, you can prevent gum disease from destroying your smile and endangering your overall health.
About the Author
Dr. Chris R. Combs is an Arkansas native with over 20 years of experience in dentistry. He is proud to provide preventive treatments, periodontal therapy, and a range of other treatments that aim to help patients achieve and maintain healthy smiles. If you have questions or concerns about your gum health, contact our team via our website or call our Bella Vista office at 479-855-6764.