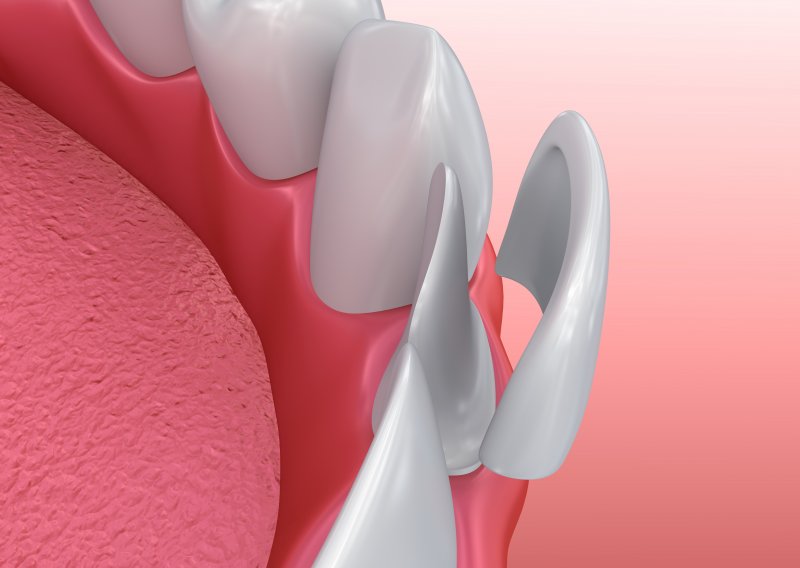 If you're dealing with crooked or misaligned teeth, you probably think you must have them straightened. That would mean a few years with traditional braces or, if possible, a year or so wearing Invisalign aligners. Either way, the process would take a while. However, another choice is on the table: instant orthodontics, thanks to porcelain veneers. This latter treatment could give you a perfectly straight smile in just a few appointments. Here's a summary of the process from your local dentist to help you learn more.
What *Are* Porcelain Veneers?
Porcelain veneers are thin, durable layers of porcelain that bond to the front surfaces of teeth. Dentists normally use them to conceal dental flaws like chips, cracks, and tooth fractures. The only thing you and other onlookers will see is a clean, white surface that enhances your smile.
By matching the color of your tooth enamel, veneers blend with your other teeth naturally and seamlessly. With proper care, their lifespan can range up to twenty years.
How Can They Correct Misalignment?
Though it isn't well-known, porcelain veneers can correct the appearance of misaligned teeth. They can hide a range of minor to moderate orthodontic issues along with stains, cracks, and chips. Many consider them "instant orthodontics" because their placement can take as little as two appointments.
During your first visit, the dentist will prepare your teeth for your future veneers. They'll remove a thin layer of enamel to ensure the porcelain will fit flush against the teeth. Then, they'll take molds and impressions of your teeth that'll be used to make the prosthetics.
The dentist will have you return for your second visit once the veneers are ready. The treatment will be tested before bonding to your teeth to confirm the fit. You can leave the clinic with a new smile if there's no issue.
The Benefits of Instant Orthodontics
The "instant orthodontics" of porcelain veneers has many benefits for patients. Some of them include the following:
No uncomfortable and noticeable metal brackets and wires
No food restrictions
Reduced treatment time compared to alternatives
Further address cosmetic issues like discoloration, surface stains, chips, cracks, and fractures.
Remember that Invisalign and braces aren't your only "straight smile" options. That said, talk to your dentist to see if porcelain veneers are an ideal way to fix your crooked grin!
About the Practice
Combs & Associates Family Dentistry is based in Bella Vista, AR. Led by Dr. Chris R. Combs, their team gives patients effective and comprehensive dental care. Advanced dental technology makes their treatments quick, painless, and high-quality. These services span preventive, cosmetic, and restorative dentistry, not to mention emergency dental work and periodontal therapy. For more information or to book an appointment, reach them at their website or by phone at (479)-855-6764.