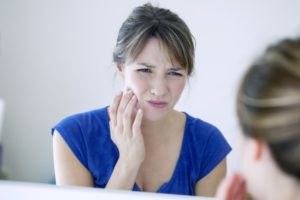 If you brush and floss your teeth every day and have never had a cavity, you might think you can never be at risk for gingivitis. However, this is a common myth. There are other factors that can contribute to having gum disease besides just your health habits. Let's debunk 6 myths about gingivitis in Bella Vista.
What is Gum Disease?
Gum disease, also known as gingivitis in its early stage, in an infection of bacteria near the gumline. It's typically caused by poor oral hygiene habits such as not flossing. When left untreated, it progresses to periodontitis and can create pockets between your teeth and gums, making your teeth become loose and eventually fall out. It can also increase your risk of contracting other diseases, such as pneumonia and heart disease. There is a lot of misinformation out there about gum disease, so let's examine and debunk 6 myths about gum disease.
1. Gum Disease Isn't Very Common
It's estimated that about half the adult population of the United States will contract gum disease at some point. This can be prevented by daily brushing along the teeth and gumline and flossing between the teeth. neglecting these habits can cause bacteria to build up and make the gums inflamed.
2. If I Don't Have Cavities, I Can't Get Gum Disease
If you brush and floss daily, you're less likely to get cavities and gum disease. However, while cavities typically cause pain, gum disease often goes unnoticed until your dentist in Pea Ridge spots it. A professional cleaning at the office is typically how gingivitis can be treated, along with an excellent oral hygiene routine.
3. Gum Disease Will Make Me Lose My Teeth
This isn't necessarily true. If gum disease is caught early enough, your dentist can recommend a treatment plan to help save your teeth. By eating healthy foods, brushing twice a day, and flossing once a day, you can reverse early gum disease and prevent your teeth from falling out.
4. It's Normal for Gums to Bleed During Pregnancy
A lot of weird things normally happen during pregnancy, but bleeding gums is not one of them. Make sure you still visit your dentist while you are pregnant. Taking good care of your teeth can help make sure your baby's teeth grow in healthy as well.
5. Having Bad Breath Means I Have Gum Disease
Although persistent bad breath can be indicative of gum disease, it can also be a symptom of another condition, such as diabetes. If you frequently have bad breath or a bad taste in your mouth, see your dentist to determine what the problem is.
6. If I have Diabetes, I'm Also Going to Get Gum Disease
Uncontrolled diabetes can lower the body's ability to fight infection and slow down its ability to heal. Because of this, you are at a greater risk of developing infections like gum disease. Be extra diligent about your oral health if you are diabetic.
Hopefully that cleared up some common myths about gum disease. If you think you may have it, be sure to contact your dentist right away.
About the Author
Dr. Chris Combs has more than twenty years of experience in the dental field. He completed his Doctor of Dental Surgery degree from Texas A&M Baylor College of Dentistry. He has completed continuing education courses with the Pankey Institute and Spear Study Club, because he strives to provide his patients in Bella Vista and Pea Ridge, AR with the best dental care possible. To learn more about how he can treat gum disease, click here or call (479)-855-6764.