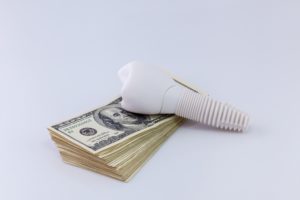 If you've lost a tooth or two over the years, you have more options than ever to replace your missing teeth. As an alternative to bridges and dentures, 500,000 people every year are choosing dental implants to fill the gaps in their smiles. However, they are associated with a large price tag. Are dental implants worth the cost in Bella Vista? Absolutely! Here are 5 reasons to invest in the next best thing to your real teeth.
1. Never Worry About Replacements
Dental implants are the most successful method of treating tooth loss with over a 95% success rate. They are proven to last for 30 years or longer with the right care, unlike traditional tooth replacement methods, which need to be replaced every few years. As a result, dental implants can end up paying for themselves because you won't have to budget for new prosthetics.
2. Stop Bone Loss in Your Jaw
Every tooth is vital for a healthy smile. Losing even one can cause your jawbone to shrink by 25% within the first year, which will continue to deteriorate as time passes. As your jaw loses density, you'll be at risk of additional oral health issues and your facial tissues won't have adequate support, which can cause premature wrinkles and sagging skin. A dental implant is the only method to stop bone loss caused by missing teeth because it replicates the entire tooth structure. A titanium post is placed into the jaw to replicate a root, stimulating new bone growth.
3. Reduce Future Oral Health Expenses
Keeping your jawbone strong and healthy will prevent your teeth from shifting to safeguard your smile from common issues caused by missing teeth, like cavities and gum disease. You'll be less likely to need costly procedures later by preserving your smile.
4. Close Replica of Your Real Teeth
Although it may take a few days to adjust to your new teeth, you'll soon forget they aren't natural. Your jawbone will fuse to the implant posts through a process called osseointegration. Your dental implants will have the support of your jawbone to benefit from unmatched support and stability. You can regain 70% of your natural biting force.
5. You Can Use Your Dental Insurance
Dental implants aren't as expensive as you might have heard because you can use your dental insurance to offset the cost. Although your benefits won't cover the entire amount, you can use your insurance to lower the expense of certain steps in your procedure.
Invest in Your Best Smile
Don't let the cost of dental implants in Bella Vista prevent you from completing your smile. Your dentist has the solutions you need to invest in the most reliable option to replace your lost teeth.
About Dr. Chris R. Combs
Dr. Combs achieved his dental degree from the Texas A&M Baylor College of Dentistry and has completed extensive education in advanced procedures, including dental implants. He has the qualifications and a reputation you can trust to rehabilitate your smile. Contact our office today to request an appointment.